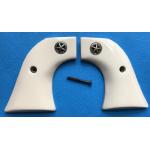 Ruger Blackhawk, Vaquero, Single Six, Single Nine, Single Ten, Old Army.

This Ruger frame is the XR, the grips will fit the above.
Screw Included.
All woods are Dymondwood.
White Pearl - Imitation.
Bonded Ivory - Imitation.

Sometimes with Ruger frames a little modiciation may be required.
Fitting:
The pin hole may have to be modified slightly for the grips to fit, as Ruger frames are all slightly different in their metal work.
Fit grips to frame snuggly and the tighten down screw.