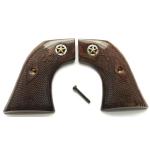 Ruger New Vaquero / Montado Grips.
Internal Lock.
Screw Included.

All woods are Dymondwood.
White Pearl - Imitation.
Bonded Ivory - Imitation.

These grips will not fit the standard Blackhawk or older Vaquero. Check the top of your grips, if they are smooth they will fit. Refer to pictures in products.
Sometimes with Ruger frames a little modiciation may be required.
Fitting:
The pin hole may have to be modified slightly for the grips to fit, as Ruger frames are all slightly different in their metal work.
Fit grips to frame snuggly and the tighten down screw.